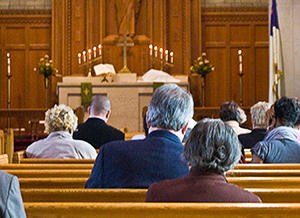 Our Sunday Services
Sunday morning activities begin at 9:15 a.m. with Adult Choir rehearsal and other opportunities for service within and outside the congregation, such as preparing for the next Food Pantry distribution. At 9:45 a.m. members and visitors are asked to begin to gather for the worship service which starts at 10:00. During the service, Pastor Engel leads the congregation in a service of singing, Bible readings, preaching, and prayer. On the first and third Sundays of each month, we celebrate communion, sharing Christ's body and blood in bread and wine, and commemorating His heath and resurrection.
It is our sincere hope that all visitors will feel kindly welcomed.
Special services are held on Thanksgiving Day, Christmas Eve, Christmas Day, and on Wednesday afternoons during the holy season of Lent. Please call for more information about the time of these services.
Alter Guild

Since 1943, the guild has contributed to the worship service by keeping the chancel and alter furnishings prepared for their fellow worshipers. They add beauty, care, and reverence to God's house. Through their service, they provide an opportunity for the Gospel message to be more attractive and receptive to all believers.

Christian Growth and Fellowship

Meeting for 45 minutes following the service, at 11:15, Redeemer's Christian Growth and Fellowship groups are small Bible studies aimed at growing the participant, and strengthening their relationships with God and one another.

Each study lasts 4-12 weeks to allow the participant the opportunity to engage in a variety of discussions with different groups. Groups are envisioned to contain about 10 participants, but all are welcome to attend.

Sunday School

Redeemer's Sunday School traces its beginning to the organization year of 1884 in various forms of meetings - some on Sunday evenings, some during the week. Today the Sunday School, which also includes youth Confirmation classes, meets following the worship service, at 11:15 a.m. in the classrooms in the Fellowship Hall.

Every year, on the Sunday before Christmas, the Sunday School children put on a program during the worship service. Parts are handed out, and practice begins several weeks prior. Please contact the church office if you are interested in having your child participate.