Church Tour - Property Overview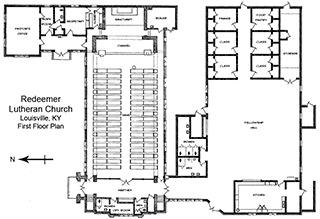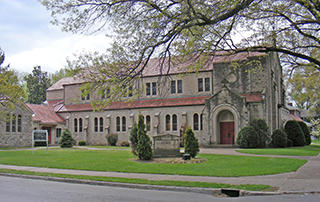 Current church building.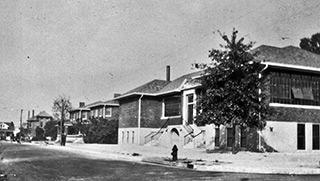 Original constructions, c. late 1920s.
Redeemer's current property was purchased in 1924 as part of the church's expansion plan. (*See the church history for more information.) The original constructions (shown below) were the school/auditorium, fronting 37th St. at Del Park Terrace, a teacherage, and an almost identical parsonage across the alley, leaving the property at the corner of 37th and River Park Dr. for future development.
A separate church building was called for from the beginning, but definite plans didn't begin taking shape until after Louisville's 1937 flood. The building was conceptualized more or less as it stands now as early as 1943, but proper fundraising and construction couldn't begin until after World War II. Groundbreaking was held early in 1951, with completion and dedication of the building in 1952. (*Film of the dedication can be seen on the audio/video page.)
The school building and teacherage were sold in the early 1980s, and are now the Shawnee Community Center and a private home. The parsonage, after serving as an interim support building for several years, was replaced by our Fellowship Hall.
The church's unique architecture and park-like setting set it apart from others in the area, and have served the congregation well over the years for Vacation Bible School activities, church picnics, and other events. Completing the grounds are parking lots behind the church, and across 37th St., which were added when the Fellowship Hall was built in 1990. Both are accessible from River Park Dr.