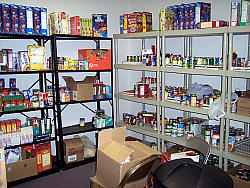 Food Pantry
On the fourth Wednesday of each month, Redeemer reaches out to those in the neighborhood surrounding the church who are in need of assistance with food items. On those days, the church's Food Pantry is open from 9:00 a.m. until 10:30 a.m. If emergency assistance is needed at other times, individuals may contact the church office.
Occasionally, because of a holiday, or for staffing reasons, the date of the food distribution will change. When this happens, a notice will be posted on the doors of the Fellowship Hall, or in the windows of the connector to the church. Feel free to call the church office to confirm distribution dates.
The Food Pantry is a function of Redeemer's Board of Social Ministry, and benefits from a collaboration with Dare to Care, and a grant from the Jefferson County Kentucky Chapter of Thrivent Financial for Lutherans. A food collection for the Pantry is taken during the service (following the regular offering) on the first Sunday of the month, but donations are accepted at any time.
During 2010, we were able to serve 1,190 clients with 3,953 family members! A more detailed account is available in the January, 2011 newsletter. Thanks to all who were able to help, including Redeemer members and friends, Shepherd of the Hills LWML, Our Savior Lutheran Church, Our Savior Lutheran School, and Our Savior Lutheran ChristCare Group!
Project Compassion
Redeemer is pleased to offer a new service, Project Compassion on the second Wednesday of each month, beginning April 13, 2011, from 1:00 p.m. to 4:00 p.m. Additional details will be forthcoming, but below is a quick list of the services that will be available:
Free HIV Testing from the Metro Health Department. (A $5 bus token will be provided for eligible testers.)
Free Walk-In Legal Clinic (Excluding criminal cases.)
The Job Shop from the Louisville Free Public Library. (April and May)
Family Planning Consultations from Planned Parenthood of Kentucky. (April and May)
Free Medical Screenings for:

High Blood Pressure
Diabetes
Obesity
Asthma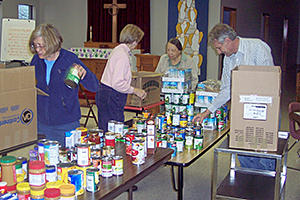 Social Ministry
Our Board of Social Ministry seeks to respond to persons experiencing the hardships of hunger, loneliness, and physical needs by operating the Food Pantry, preparing Christmas fruit baskets for congregational shut-ins, and Christmas food baskets for those in need who are not serviced by the monthly Food Pantry. This ministry cannot meet all needs, but seeks to help in those ways in which we are gifted as a congregation.